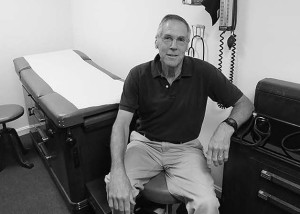 Robert Sholl, MD is combining  the best of both worlds together at Wellspring Functional Medicine, a functional medicine office at , Scarborough, Maine.   Helping people with challenging issues by the integration of conventional and alternative medical care through the lens of functional medicine is his goal. According to the Institute for Functional Medicine (IFM), this model of health care "addresses the whole person, not just the isolated set of symptoms."
"In my prior family medical practice I became very aware of the importance of ones spiritual, physical, psychological, and relational health as contributors to overall health. It has been extremely rewarding to now apply advanced principles of functional medicine to this and see people feel better and regain hope," Dr. Sholl said.
"I like to think of it as putting out the fire instead of just covering up the smoke. Having more time to consider the story of ones complete life cycle helps to make this possible. Often, the outcome is less need for medication and more successful disease modification, and even reversal."
A functional medicine provider will also focus on the genetic issues,
environmental inputs like the air we breath, toxic exposures, nutrition, and lifestyle issues. Treatment is through a variety of ways including botanicals, nutritional supplements, drugs, and dieting and detoxification programs. It can also include counseling, exercise and stress management tactics, and wellness planning.
Dr. Sholl is part of the first wave of certification candidates in the country who have completed all of the required advanced training through the IFM for the certification exams next month.
"If someone is frustrated due to symptoms or an illness that seems to have hit a roadblock in terms of treatment, a functional medicine evaluation can often times help to overcome this. The consultations are not meant to replace the care of one's Primary Care Provider." Dr. Sholl said.
Dr. Robert Sholl MD – WELLSPRING FAMILY MEDICAL 
DO YOU NEED MORE ANSWERS AND WANT BETTER HEALTH? A FUNCTIONAL MEDICINE EVALUATION COULD HELP
ROBERT SHOLL MD, FAAFP IS NOW AVAILABLE
COMPREHENSIVE EVALUATIONS
FOR ALL CHRONIC AND ACUTE ILLNESSES
DISEASE MANAGEMENT AND MODIFICATION
FOOD AND EXERCISE AS MEDICINE
MORE EMPHASIS ON LESS MEDICINE AND MORE NATURAL MODALITIESALLERGY, FOOD SENSITIVITY, IMMUNE DYSFUNCTION, VASCULAR HEALTH, DIABETES, THYROID AND ADRENAL ISSUES, COGNITIVE AND BEHAVIORAL ISSUES, WEIGHT, FITNESS ISSUES, GASTROINTESTINAL AND MORE.
WHOLE PERSON (Body, Soul, Spirit) CARE FOR ALL AGES
Office Address:
Wellspring Functional Medicine
Robert Sholl, MD
P.O. Box 1565
Scarborough, Maine   04070
Phone:   (207) 289-1060
Fax:        (207) 289-1061